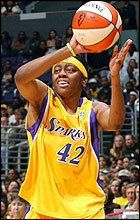 Basketball Coaches Without Boundaries was proud to have Nikki Teasley as a head coach during our 2001 Youth Summer Basketball Season. Nikki stepped in to help our with our 2001 Senior Division Timberwolves team. Her team ended the season with a 3 and 3 record. However, Nikki brought a new light on the players as she introduced them to college level pre-game warm-up, offenses and defensive schemes. During her off season with the North Carolina University Woman's basketball team, everyone could tell Nikki was going to be a star in the WNBA. The team members of the 2001 Senior Division Timberwolves will never forget their summer experience having Nikki Teasley as a volenteer coach. Nikki gave her team the same energy she gives when playing the game. Nikki attend Prospect Hall of Frederick and had a wonderful college career at North Carolina University. Additionally, Nikki was a member of the 2004 USA Basketball Women's Senior National Team. Currently, she is a 6-0 foot, 169 lbs, point guard for the WNBA LA Sparks. Of all the BCWB players and volenteers over the years, Nikki is by far one of the most successful in her basketball career. As a member of the LA Sparks, in 2002 WNBA finals she hit the game winning 3 point shot as time expired to complete a two game sweep and capture the WNBA championship.
(photos & high school comments copied from WNBA & USA Basketball websites)

For more information and WNBA stats on Nikki, please visit the WNBA website at: http://www.wnba.com/playerfile/nikki_teasley/.

For more information on Nikki's stats and comment while a member of the 2004 USA Basketball Women's Senior National Team please visit the USA Basketball website at http://www.usabasketball.com/bioswomen/nikki_teasley_bio.html

For college highlights, coaches comments and college career stats while at North Carolina University please visit the NCU and ESPN websites at :

http://tarheelblue.ocsn.com/sports/w-baskbl/mtt/teasley_nikki00.html
http://espn.go.com/ncw/ncaatourney00/s/bio/teasley.html



High School



At St. John's at Prospect Hall in Frederick, Md.: Coached by Kevin Sutton, Stu Vetter and Steve Kennedy ... Was rated the No. 1 women's basketball recruit in the nation by Blue Star magazine ... A high school All-America each of her four years ... Named the Parade magazine and Gatorade Player of the Year in 1997 ... Named the Gatorade Player of the Year for Maryland as a sophomore, junior and senior ... Averaged 27.1 points, 9.3 rebounds and 8.5 assists per game during her senior year ... Broke records for scoring (30
points), field goal attempts (24) and field goals (14) in the WBCA All-Star Game in the spring of 1997. Personal: Born Michelle Nicole Teasley on March 22, 1979 ... The daughter of Ernestine Teasley ... She has three older brothers, Michael, Tony and Ernie, and a younger brother, Sherrod ... African-American studies major

National/International: In the summer of 1997, captained the gold-medal winning USA Junior World Championship team, on which she played with future Carolina teammate Juana Brown. 1997-98 Season Notes: Earned ACC Rookie of the Year honors 1998-99 Season Notes: Named first-team All-ACC Tournament and second-team All-ACC 1999-2000 Season Notes: Named MVP of the 2000 ACC Tournament 2001-02 Season Notes: Named first-team Atlantic Coast Conference and first-team All-ACC Tournament .